04/18 Review of Barr Announcement & the Real Big Story of the Day (Not Barr)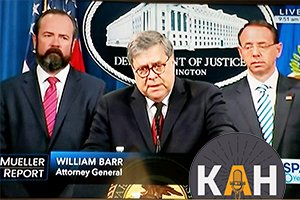 04/18 Review of Barr Announcement & the Real Big Story of the Day (Not Barr)
Watch the KrisAnne Hall Show on YouTube!
A Liberty First review of the Barr announcement. But perhaps more importantly, something that really should be the big story of the day- a truly bi-partisan thing- and, ironically, the media will be silent.
Hear the William Barr truth, but don't miss the really important stuff, as well.
https://www.krisannehall.com/wp-content/uploads/2019/04/Show_Barr_Mueller.png
200
300
kahalladminnew
https://www.krisannehall.com/wp-content/uploads/2023/05/krisanne-hall-official-website-logo_2.png-2.webp
kahalladminnew
2019-04-18 18:21:29
2019-04-18 18:21:29
04/18 Review of Barr Announcement & the Real Big Story of the Day (Not Barr)